STRONG!9,6%! lidocaine numb numbing topical anesthetic cream, NO PAIN IN MIND 5H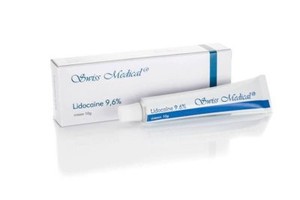 ---
   Cosmetics professionalbeauty parlor, aesthetic medicine, doctors                                                                                                     10G CREAM ANESTHETIC LIDOCAINE SWISS MEDICAL THE BEST  FROM USA                                                                       LOCAL SUPER NUMB 9,6% LIDOCAINE

                  NO PAIN IN MIND 4-5 HOURS!    MAXIMUM STRENGTH   NEW & STRONG FORMULA

It is a preparation containing lidocaine, a local anesthetic substance. Lidocaine inhibits the formation and conduction of nerve impulses so well numbs the skin surface. The product is ideally suited for local anesthesia of the skin before needle mesotherapy treatments, micro needle, laser treatments, in the treatment of permanent makeup, the performance of tattoos.

How to use: preparation for external use only, apply a layer of cream on intact skin, wait  20 to 30 minutes, wash off the cream and proceed to surgery. To speed up the cream, you can use the cream foil (occlusion). The degree of anesthesia of the skin depends on the dwell time of the preparation on the skin and on the dose and on the skin area.Where it is necessary to obtain deep anesthesia of the skin, application should be avoided process can be repeated.

IMPORTANT: LEAVING CREAM ON SKIN (UNDER THE FOIL) LONGER, EVEN 60-150 MIN YOU INCREAS  ANESTHESIA OF THE SKIN EVEN TO 4-5 HOURS

We used preparation in tattoo studio for over a year - every customer satisfied. We recommend tht ointment - significantly reduces pain, ideal for making and tattoo removal, body piercing, laser, waxing, needle mesotherapy, permanent make up, microblading and many other treatments...

   CLASS 1 MEDICAL DEVICE 

Packing: 10g

Exp. Date: 05/JAN./2020  

Manufactured by:

Austin Pharm Co.,LTD   

                 

Tested and appreciated ointment - NUMBER 1 IN USA

ATTENTION:

SHIPMENT 5-7  WORKING DAYS. ALL ORDERS AND SHIPMENTS ARE COMPLETED IN POLAND WHAT ALLOWS US TO GET THE LOWERS PRICES OF PRODUCTS AND SERVICES

WANT TO BUY MORE ART? CONTACT US.