Milk Thistle Extract Powder, Silymarin 80%, For Liver Health & Detoxification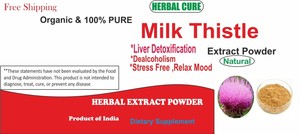 ---
Milk Thistle Extract 80% Silymarin powder 

Serving size:400 mg

Mfg: Sep 2017

Exp: March 2019

Latin Name: Silybum marianum.L

CAS No.: 22888-70-6 / 65666-07-1

Molecular Formula: C25H22O10

Molecular Weight: 482.44

Active ingredients: Silymarin & Silybin

Specification: Silymarin 80% UV, Silybin 30% HPLC<![if !supportLineBreakNewLine]><![endif]>

Use Part : seed

Appearance: yellowish fine powder

Mesh size: 80 Mesh

Test Method: UV/HPLC

Benefits:

1. Protect liver, improve liver function, promote the secretion of bile and inflammation

2. Strong antioxidant, can remove the body of free radicals, delay senescence

3. Prevent alcohol, chemical toxin, heavy metal, drugs, food toxins, the environment pollution and so on of the damage to the liver, and promote the regeneration of liver cells and repair.

In order to provide consistency in quality, all of our products undergo following tests:

Assay with HPLC / Titration / Gravimetry, Residual Solvent Analysis with GC-HS, Heavy Metal Testing with AAS, Microbiology Analysis, Impurity Profiling and Stability testing. does not permit health claims regarding herbal products. For information regarding scientific studies on this herbal product, contact us through .

Shipping & Handling

1. Handling time is 1 day after the cleared payment

2. We will ship the item via Indian Post by Register Airmail

3. Please consider few more days for your local customs delay and formalities. Shipments could take up to 15 to 40 business days

4. Please contact for expedite shipping. Additional cost per parcel for FedEx express shipping will be USD 25

It is requested that in case of any issue , please contact me before leaving any feedback. I assure you of prompt response in your favor

Please judge our shipping duration on how fast we have dispatched your order. The dispatch date is at the bottom of the IndiaPost shipping receipt on the package.