Genuine Bosch 3 Way Jetronic / Junior Power Timer With Terminals and Boot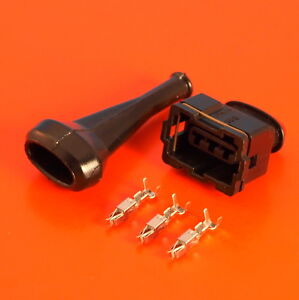 ---
Bookmark Contact Newsletter Feedback New In Home Automotive Connectors Automotive Relays Relay Holders Bases Heat Shrink Grommets Cable Clips Radiator Caps Shop Categories 2.8mm Mini Connectors AMP Superseal 1.5 Series Automotive Connectors Automotive Relays Battery Terminal Cover Bosch Cable Clip Copper Tube Terminals Delphi Connectors Deutsch Connectors Econoseal FASTIN-FASTON Connector Fuseboxes Grommets Heat Shrink Tubing Industrial Relays Junior Power Timer Lamps & Bulbs Lucas Rists 'E' Series Lucas Rists TTS Range Lucas Style Bullett Connectors Mate N Lok Radiator Caps Relay Holders and Bases Terminal Boots Terminal Sleeves Terminals Tools VAG Connectors Waterproof Boots and Covers Information Centre About Us Contact Us Delivery Info Payment Info Technical Data Keep Updated

Join our Newsletter to get the latest product arrivals & discount notifications direct to your inbox

Join Today Customer Services

If you need help with an order, contact our friendly customer service team. We're ready to assist you!

Contact Us Now Genuine BOSCH 3 Way Jetronic Sealed Connector Supplied With Terminals & Cable Seals Part Nos.: Bosch Housing. 1 284 485 064 TE Terminals 927770-3 Bosch Waterproof Boot : 1 280 703 022 About this item

Welcome to 3 Way Components Shop

For Sale

Genuine Bosch 3 Way Jetronic Sealed Connector Supplied With Terminals and Cable Seals

 

These are genuine high quality parts. Not cheap imitations.

 

This item includes: 1 x Female Connector Housing

3 x Terminals

1 x Waterproof Boot

  Typical Usage

Fuel Injectors Air Temperature Sensors Water Temperature Sensors Engine Position Sensors and many more.

These water resistant connectors are manufactured for the automotive market, consumer appliance industries and most other low voltage applications. They are ideal for many applications including car, marine, lorry, motorcycle, race car, caravan etc. and are connected and disconnected quickly and safely. The Jetronic Series Connector family has been designed to meet the increasing requirements for reliability and water proofness. The steel top spring provides additional locking protection.  

We also supply Junior Power Timer and Junior Timer connector housing kits from 2 to 7 Way supplied with terminals and wire seals. We sell the wire seals and terminals as seperate items. Please visit our shop under category "Junior Power Timer"  to see our full range or alternatively click "here". We also supply rubber boots that work in conjunction with the Timer Series and Superseal 1.5 Series to provide a more robust seal around the connectors. Please visit our shop under category "Waterproof Boots and Covers" to find all boot sizes.

We have a wide range of connectors, relays, relay holders, fuse holders, grommets and many other automotive electrical components.

Click on the "Shop Home" link above to see our range.

We will dispatch our products worldwide and we offer combined postage discounts on all our items when you buy two or more.    To benefit from combined postage discounts please add the items you need to your basket and then use the "Request a total from seller" button in your Basket.

 

Alternatively send an email and we will send you an invoice with the postage discounts included. Please note that we cannot refund postage costs once payment is made.     We aim to ship all our orders on the same business day provided that they are ordered before 3 P.M. If you have any queries, questions or need help with our items, then please do not hesitate to contact us through messaging.

Thank You

 

About Us Contact Us Payment Info Delivery Info Technical Data

This site is operated by 3 Way Components and designed for your convenience and satisfaction.

3 Way Components is a leading retailer for the supply of top branded automotive electrical components in the UK since 2011.

3 Way Components strives to serve its customers with top quality branded products at a low price. These products include Automotive Relays, Connectors, Wiring grommets, Terminals, Fuse Holders and many more. We only supply genuine parts and not cheap imitations, We supply these components at a competitive price but please remember "you get what you pay for". Our brands include Bosch, TE, Lucas Rist, Sumitomo and others.

3 Way Components is based in Luton, Bedfordshire, England. We ship nationally and internationally by mail and are happy to organise other forms of delivery.

We operate under the policy of total customers satisfaction and have thousands of positive independent customer feedbacks left showing and proving the quality of our products and high service level of our company. We are proud of our feedback and will endeavour to keep our 100% score by providing a fast, efficient and pleasurable service.

If you have any questions or need assistance with any of our products the please contact us via the messaging system by Clicking Here

If you have any requirements, comments or any questions regarding our products, costs, delivery options, services or general enquiries please contact us through messaging by Clicking Here

Available Monday to Friday between 08:30am to 04:30pm, Send a message for quickest response. We normally try to get back to you on the same day during opening hours.
Payment Information
All our payments are handled by Paypal which is one of the most securepayment systems in the world. You can pay through your Paypal account or you can use your Credit / Debit card and Paypal will process this payment also.
At the current rates and are correct at the time of entering our store, the total cost of an order is the price of the products ordered plus the delivery charge.
We would also accept Cheque or Postal order payments form customers who do not currently have Paypal or Credit / Debit card contact us to arrange these payments.
Delivery Info
Delivery Areas

We deliver Worldwide. You will find below our delivery cost calculation for the UK and the rest of the world but if you would like a specific delivery cost please contact us via the messaging by clicking "HERE" Please note that once payment is made we cannot change the delivery method or make any refunds.

UK Deliveries

UK orders placed and authorised before 3pm any weekday (excluding bank holidays) are usually dispatched the very same day.

Normally we use Royal Mail 1st and 2nd Class Mail depending on which service you chose at the time of purchase. For orders over £30.00 we will often send using Royal Mail Signed For. If you would like your order sent using Royal Mail Signed For please contact us via the messaging by clicking "HERE" before purchasing your items so that we can adjust the postage cost on your invoice. Please note that once payment is made for an item, unfortunately we cannot change the postal method or make any refunds.

We are also able to provide a next business day delivery service using a 24 hour courier. Please contact us via the messaging by Clicking Here if you are interested in this service and require pricing.

UK Delivery Charge

We offer postage discounts when two or more different items are bought from us. The delivery costs are calculated by taking the sum of the most expensive postage cost plus 10p per additional item. will automatically calculate the discount and deduct it from the total cost. The postage discount will be shown to you when you complete payment.

UK Delivery times

UK orders placed and authorized before 3pm any weekday (excluding bank holidays) are normally dispatched the very same day.

Depending on the delivery method the delivery times are as follows

Royal Mail 1st Class - 1 to 2 Working Days Royal Mail 2nd Class - 2 to 3 Working Days 24 hour Courier – 1 Working Day Europe & Rest of the World Deliveries

International orders placed and authorized before 3pm (GMT) any weekday (excluding bank holidays) are usually dispatched the very same day. Normally we use Royal Mail Airmail Small Packets service.

We can also offer the Royal Mail International Signed For Small Packets. If you would like your order sent using this service please contact us via the messaging by Clicking Here before purchasing your items so that we can adjust the postage cost on your invoice. Please note that once payment is made for an item, unfortunately we cannot change the postal method or make any refunds.

Europe & Rest of the World Charge

We offer postage discounts when two or more different items are bought from us. Please find the component you require and select the number of items that you wish to buy. Then use the "Add to Basket" button. Then find any further components you require and select the number of items that you wish to buy and again, add to the basket. Once you have selected all your items please go to your basket and use the "Request total from seller" button (found at the top of the basket page) and we will send you an invoice with the postage discounts included. If you have a list of items that you require from us and require a postage cost before hand please contact us via the messaging by Clicking Here

Europe & Rest of The World Delivery times

Delivery within the EU usually takes around 5 working days, but please allow up to 10 working days.

Delivery to the rest of the world usually takes around 8 working days, but please allow up to 14 working days.

Delivery address options

In the interests of customer security all items must be shipped to the address were your payment method is registered.

View Our Technical Data Information Here

Helpful Shop Links Shop Home View Our Feedback Ask A Question e-Newsletter Sign up Follow Us on Lamps & Bulbs Terminals Sleeves Fuseholders About Us

We offer high quality original manufacturer automative electrical components including relays, wiring connectors, grommets terminals and much mroe.

Contact UsShop HomeView Our FeedbackAsk A Questione-Newsletter Sign up Follow Us on Top Categories Home Automotive Connectors Automotive Relays Relay Holders Bases Heat Shrink Grommets Cable Clips Radiator Caps