Digital Blood Pressure Monitor Heart Beat Meter Automatic Upper Arm Health Care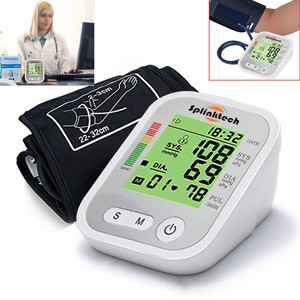 ---
  Shop FAQ's Feedback Bookmark Us About Us Contact Us Get In Touch Browse our Store Secure Payments Delivery Options Satisfaction Guaranteed Get Social Digital Automatic Upper Arm Blood Pressure Monitor Basic Intellisense 180 Memory Description

Integrated design & LCD display: The blood pressure monitor integrates data display and cuff in one.

Intelligent digital LCD display helps you easy to read the measurements, date and time clearly.

 

Able to read systolic pressure, diastolic pressure and pulse rate, monitor of irregular heartbeat and blood pressure classification simultaneously.

2×90 sets memory: Memory function, Double Mode, totally can store 180 readings automatically.

It can storage historical measurements, help you record and monitor blood pressure changes.

Intelligent blood pressure monitor: One-key operation, intelligent measuring and reading.

CE0123, show the measured results with a high precision value, short the measure time efficient than the previous sphygmomanometers.

 

One person can operate it alone.

Small size and Innovative design.

Easy to operate for adults, young and aged.

It's portable, you can use it at any time and anywhere.

It requires 4 X AAA batteries (Not Included).

Batteries not included in the package.

Colour: Silver.

---------------------------------

Functions:

-----------------------------------------------------

1.  Blood Pressure Indicator

2.  Sign of Battery Low Voltage

3.  Memory Icon

4.  High Pressure (Pressure of Systolic)

5.  Low Pressure (Pressure of Systolic)

6.  Groups of User

7.  Indicator of Average Value

8.  Voice Icon (no icon if without voice function)

9.  Memory Group

10.                Heartbeat Icon

11.                Pulse Display Number

 

-----------------------------------

Specification:

--------------------------------------------------------

 

1.  Display Mode: LCD Digital Display

2.  Measurement Method: Oscillographic Measurement Method

3.  Measurement Range: Pressure: 0~280mmHg (0kPa-37.3kPa)

4.  Pulse: 40~199 Beats/Min

5.  Accuracy: Pressure: Within +/- 3mmHg,

6.  Pulse: Within +/- 5%

7.  Resolution: 1mmHg (0.1kPa)

8.  Power Supply: DC 5V, 4x AAA Batteries (Not included)

9.  Weight: 450gms

10.                Dimensions: 116 x 98 x 60mm

 

Accessories Included: Cuff Band, Product Manual

Package Content

1x Electronic Blood Pressure Monitor with Voice Function

 1x Arm Cuffs, Colourful Gift Box and User Manual

Need Help?  

IF YOU HAVE ANY QUESTIONS REGARDING THIS ITEM

 

SIMPLY CONTACT US VIA MESSAGES AND WE WILL GET BACK TO YOU WITHIN 24 HOURS

 

PLEASE LEAVE US FEEDBACK WHEN YOU GET YOUR ITEM THIS WILL REALLY HELP US OUT

  Content © Copyright noormobileuk. All rights reserved.