2 x Lunar Lumen H4 12V 55W / 100W ~5000K Super White Halogen Headlight Bulbs 472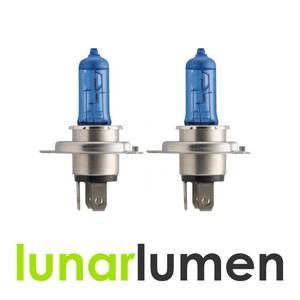 ---
Tani-Logics Uk Listing Template MENU Home New Products Feedback Contact Us Home New Products Feedback Contact Us Free Delivery in UK International Shipping Moneyback Guarantee Top Quality Guarantee
Categories
HID Xenon Ballasts Halogen Bulbs HID Xenon Bulbs PDC Parking Sensors LED Lighting
Useful Link
View Store Ask Question View Feedback
Why From Us ?
2 x Lunar Lumen H4 12V 55W / 100W Super White Halogen Headlight Bulbs ~5000K DESCRIPTION

2 x Lunar Lumen H4 12V 55W / 100W Headlight Bulbs.

These will do both your dipped beam and high beam.

Made using high quality quartz glass, great protection to increase the bulb working life.Direct replacement for standard halogen bulbs.No increase in heat or wattage.Clear white light.Easy to replace or upgrade, it takes up to 15 min to install (Plug and Play)No modification required.These bulbs are fully E marked and road legal.Bulbs have full UV protection and are suitable for use with plastic lenses.12 month warranty.

Specification:

Colour: Super White ~5000K.360 Even light distribution.CANBUS Technology - Error free.H4 Base fitment (472).Voltage: 12V.Wattage: 55W or 100W (select from menu above).

Super White effect will give your vehicle a cleaner more modern look, also bulbs are deigned to be whiter than your standard bulbs, but don't expect them to be as white or as bright as HID Xenon lights, which use different technology.

When you power 100W bulb for the first time, on some occasions bulb may start smoking, but don't worry, once the top ink will dry, there will be no more smoke, and bulb will be working fine.

Returns If for any reason you are not happy with your purchase. Please contact us prior to opening a case or leaving a feedback, we aim to respond within 24 hours and will do everything to sort problems in your favor. Delivery At the moment we can only offer you standard delivery service (3-5 working days). Payment PayPal UK Wire Bank Transfer Warranty Please read product description for individual warranty information. About Lunar Lumen

We are small company of young individuals passionate about car industry. We specialise in HID Xenon, halogen, LED light bulbs, control ballasts, and many more products.

We Accept

Lunar Lumen UK Copyright © 2017. All rights reserved.